Regular price
Sale price
$90.00 USD
Unit price
per
Sale
Sold out
Unveil the Essence of Pure Kratom Power with K-Shots—Your Liquid Gold of Intensity & Quality! 🌿
⚡ Why K-Shots are the Ultimate Kratom Experience Unlock the raw power of premium Maeng Da Kratom in a potent liquid form. Packed with an exceptionally high concentration of mitragynine, K-Shots offer a robust and unrivaled Kratom experience that stands head and shoulders above the rest.
🌱 Exclusivity in Every Drop Our K-Shots are meticulously crafted from an exclusive alkaloid suspension, promising you a pure, unfiltered journey into the heart of Kratom.
🔥 A Market Leader for a Reason Quickly rising to become one of the most sought-after Kratom options, K-Shots blend quality with intensity for a Kratom experience that's second to none.
💎 Pure Kratom, Zero Compromises Dive deep into the rich, authentic essence of Kratom. No additives, no fillers—just pure, high-concentration mitragynine for an unparalleled encounter.
🛒 Ready for a Kratom Revolution? Don't settle for the ordinary; embrace the extraordinary. Click 'Add to Cart' to experience the intense power and quality of K-Shots today!
Share
View full details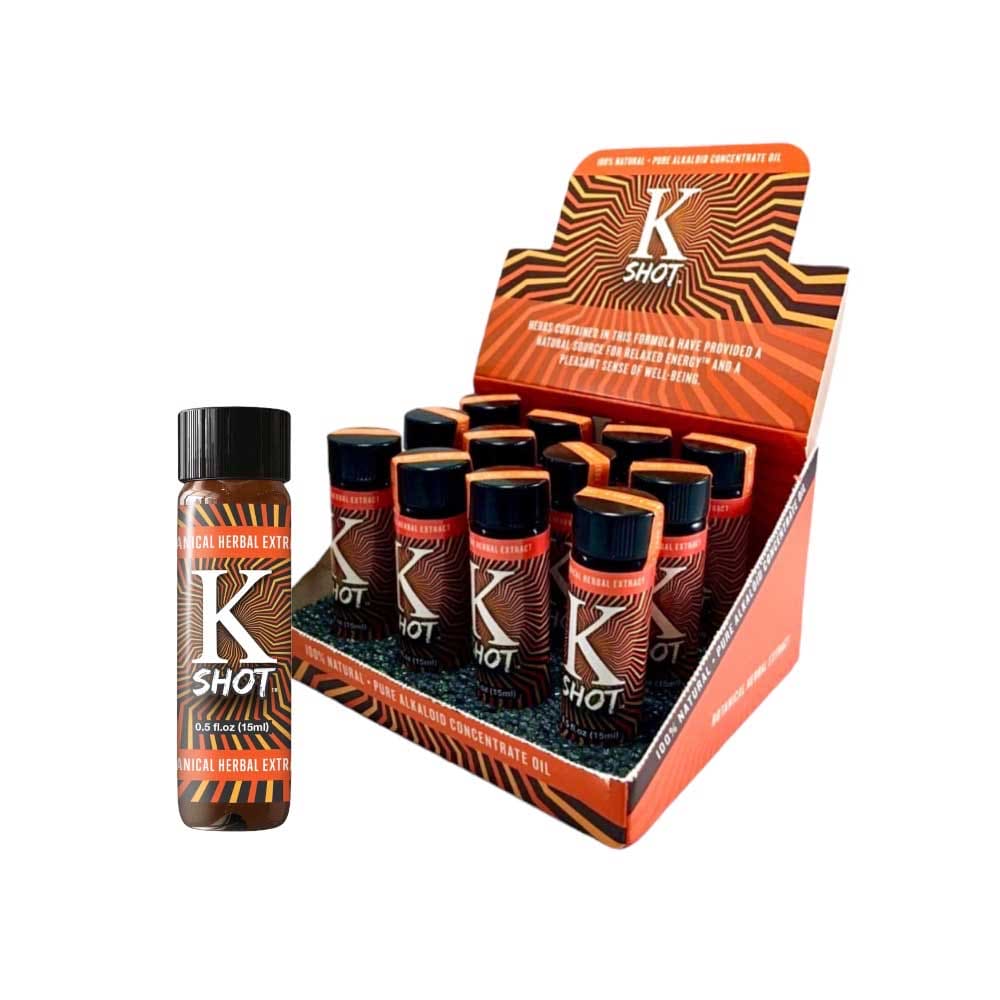 Collapsible content
How to Use 📝

Begin your journey to tranquility with Herbal Shotz Herbal Products. For optimal effects, shake well and consume one shot as needed. Limit to one bottle per day.
Ingredients 🌿

Our products contain a blend of natural herbal extracts and other active ingredients.
Free from artificial additives and preservatives.
Please refer to the individual product packaging for a full list of ingredients.
FAQs ❓

Q: How quickly does it take effect?
A: Generally, users feel the calming effects within 20-40 minutes.

Q: Are there any side effects?
A: Kava is generally well-tolerated, but some individuals may experience mild drowsiness. Always consult with a healthcare provider before use.

Q: Can it be mixed with other beverages?
A: While it can be consumed as-is, you may also mix it with water or juice for dilution. Avoid alcoholic beverages.
Shipping & Returns 🚚

We offer a special 10% off and free shipping on all orders above 150$ with the code: GRANDOPENING. Orders are processed within 3-4 business days and we offer a 30-day return policy for unopened products.
Quality Assurance 🛡️

Our Products undergoes rigorous testing to ensure the highest standards of purity and quality. It is sustainably harvested and adheres to all quality benchmarks.